The Program
The marketing staff of a typical hospital often runs into the problem of how to replace the full-featured websites of newly acquired practices with anything close to what they had. The question of how to build a satisfactory web presence vs. the desire to fully meld the practice into the hospital is often answered by the path of least resistance, and the practice gets a one or two page cookie-cutter presence on the hospital site.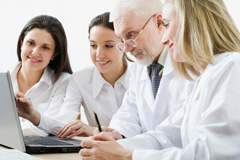 We've been developing practice websites for over 16 years, and have seen our share of practices leaving because of a sale to a hospital. In speaking with the physicians or practice managers afterward, they just about always (after apologizing for the situation that forced them to leave us) lament the loss of their old website. Many don't understand why such a valuable patient tool was taken from them, and feel helpless to do anything about it.
The Best of Both Worlds
The Highland Group is pleased to offer the solution for hospital marketing departments everywhere – and for the physicians and office staff of hospital-owned practices. Understaffed and/or overloaded marketing people will appreciate having someone else provide a turnkey approach that provides a full-featured web presence while staying true to the look and feel of the hospital website they worked so hard to develop. And the practice gets back what they missed (and is often even better than what they used to have).
The Best of the Web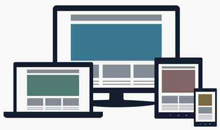 We build all practice web pages in a Responsive format, in which they'll be fully viewable no matter what size device the viewer is using. There's no other practical way to build websites in today's smart phone and tablet world. Our hospital-practice web pages are also built into our Content Management System, which allows anyone you designate to have the ability to update, create or delete any part of the practice pages, eliminating the potential delay and cost of changes (we'll still perform all site updates and maintenance if you prefer).