Premium Package
We recognize that many newly-acquired practices have been used to displaying a more comprehensive website than what our standard program offers. With that in mind, we offer our Premium Package, which includes several significant features for a relatively minor upcharge.
Make the Site Come Alive
A rotating slidehow is almost a staple of new website design today. There's no better way to add life to the home page than a collection of photos featuring different aspects of the practice (physician photos, doctor/patient action shots, facility photos, staff photos, etc.). Today's website visitors have come to expect video elements as a standard feature; their inclusion goes a long way toward building the impression of a modern, progressive practice.
Highlight the Providers
The main reason new visitors come to a medical practice website is to find out as much as they can about their potential new doctor. The Premium Package includes a full page for each provider in the package, including PAs, NPs, audiologists, etc. Along with the provider's CV or biography, the page can include action photos, special interests, personal and family info, practice philosophy, etc.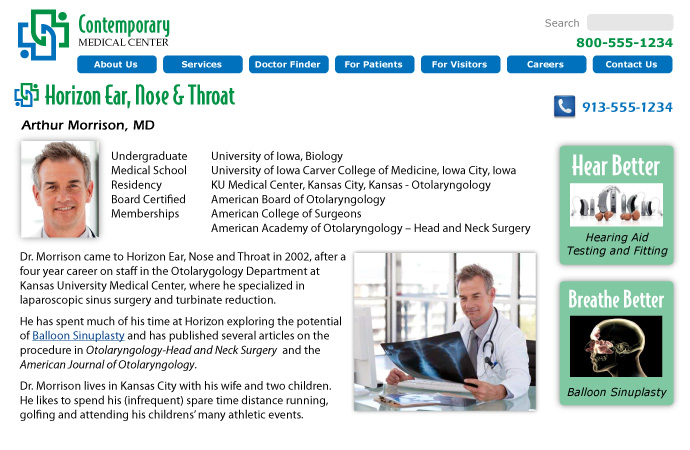 New Patient Magnet
The time to capture a new patient is right when they're viewing the practice website – when they're considering whether to engage or to keep looking. If you make them wait to call the office when they can get around to it, or when the office is open next, you know what usually happens. That doesn't include all the viewers who get cold feet when it's time to pick up the phone…
The Appointment Request page provides the perfect avenue to allow a patient to commit to the practice right now, when they've been immersed in reading about the practice and are becoming more convinced to seek help.
We maintain a completely HIPAA-compliant Secure Patient Forms program to facilitate this feature.